Unscythe, Killer of Kings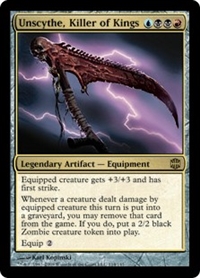 Oracle Text
Equipped creature gets +3/+3 and has first strike.
Whenever a creature dealt damage by equipped creature this turn dies, you may exile that card. If you do, create a 2/2 black Zombie creature token.
Equip 2
Card Rulings
5/1/2009 Whenever a creature is put into a graveyard from the battlefield, check whether that creature had been dealt damage this turn by the creature that Unscythe is currently attached to. If so, Unscythe's second ability will trigger. This is true even if Unscythe wasn't attached to the creature at the time it dealt that damage. Only the currently equipped creature is checked, not any creatures that Unscythe may have been attached to earlier in the turn.
5/1/2009 Unscythe's second ability cares about any damage, not just combat damage.
5/1/2009 If Unscythe's second ability triggers, but the creature that was put into a graveyard is somehow removed from the graveyard in response (or it was a token), it won't be able to be exiled with Unscythe's ability. You won't get a Zombie token.