I think we should just wait at this point. We'll see if Team Azor, Team Ugin or Team None of the Above will win out.
What about Team "Team Azor and Ugin"? The
Last
Guardian does imply more than one.
Tetzimoc might answer what the figure on
Bishop's Soldier
's Pommel is.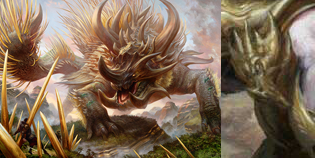 If the Immortal Sun is behind the 'Azor' sphinx, it's got to be HUGE.

It's also spewing the exact same kind of green vapor that Ugin does.

Also, along the center line you can see what appears to be Ugin horns at the top, and an 'upside-down V' that could be a symbol for Azor (a triangle and an A all at once).